Sunday. Time for an update for your favourite LiF:YO tool.
» Full Changelog
Universal Terrain Replacer Files
This new set of terrain files was added to the downloads page. It'll replace the original terrain files of the game. It is universally compatible and should be installed on every custom map server. This new method replaces the cache files that were generated individually for each custom map job earlier and brings two major benefits: First of all, the 'double map' issue where the original map was merged with the custom map after first server startup should be eleminated. Secondly, restoring a custom map server from a pure database backup or migrating it to a new host will work flawlessly.
You can use them on old custom map servers too. It isn't restricted to maps generated with this TerraTool update.
Map Uploads Revisioned
In the 1.3 update, the 'map making business' has opened up to everyone. Some very cool community creations were already added to the list, but so were maps that didn't work out as intended. So there will be a basic quality check to make sure that obviously unplayable maps don't get published. The following rules have been implemented:
Not tested => Not published. Before a map can be published, it has to be deployed to at least one server. Maps might look very nice in the preview image generated, but please take an in-game look before publishing them. You'll be surprised …
No land cells on map borders. Having land cells all the way to the map´s edge does not only look very ugly, but is also game breaking. Players falling off the edge won't ever have a chance to get back up.
No rock maps. Maps that have more rock cells than soil and forest soil combined would be way too mountainous and therefore aren't really playable.
Sand! There should be at least a few thousand sand cells on the map. Otherwise your coasts are much too steep and nobody would ever get from water to land, even after hours of swimming.
Please note that these rules and checks are 100% automated. They apply only to the publishing function. Of course you can still upload and use such maps on your own account, but they won't be sharable on the public list.
In addition, the daily job quota for map uploads was seperated from the other jobs. Map upload/simulation jobs process relatively fast so increasing the daily limit was reasonable.
Map Refresh Script
This script was originally developed in late 2016 for a friend an was never really meant to be shared. Thus, only Supporters will be able to use it for now. During the last weeks it was revisioned and made compatible with custom maps and map modifications.
This script will wipe those parts of a server that are not protected by a guild claim. Outside of guild claims, all terraforming will be undone and all buildings and objects get deleted. Everything inside the claims and all the rest of the server information (characters, skills, inventories, …) remain untouched. This will (in theory) extend the lifecycle of a LiF:YO server to eternity, as it can be repeated endlessly.
As an extra benefit, it cleans up the geo_patch table and removes obsolete records, countering the massive growth of that table over time.
Map Overhauls
A couple of the well-known maps from the official TerraTool map list had an overhaul. Based on user feedback, these improvements were made:
Archipelago: The eastern island was flattened entirely.
Riverside: The noth-western and south-eastern mountains were consolidated. The lake in the middle was slightly expanded and some very hilly terrain in the south was flattened.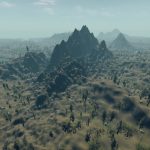 The Umbrella: Improved landbridge and adjusted amount of resources.
There's more …
The database writes for tree distribution were reduced massively, which will improve performance when distributing a map directly to an oversea´s server. The occourance height limit of gold was slightly reduced. For custom map SQL-File distribution mode, World ID is no longer needed. As always, details can be found in the  » Full Changelog
French translation at vonculm.fr